MU
NICIPALITÉ DE VAL DES LACS
10 Minutes de Ste Agathe, 10 minutes de Mont Tremblant
Propriété résidentielle 2 étages avec revenus - 3½ + garage double détaché en béton équipé en atelier etc... (énormément de potentiel - Revenus 12,000.00 annuel)
Centre du village - Près de tous les services et loisirs tel que tennis, motoneige etc.
Très bien entretenue par professionnel
Accès au lac- Boisé mixte et bien éclairci.
Terrain 111,430 pieds carrés - 350 pieds de façade par 400 pieds de profondeur approximativement
Maison 49 pieds x 38.5 pieds
1 garage attaché à la maison et un autre garage détaché 32 X24 avec électricité
Remise 20 pieds x 10 pieds à l'arrière de la maison

Toutes les toitures refaites juin 2001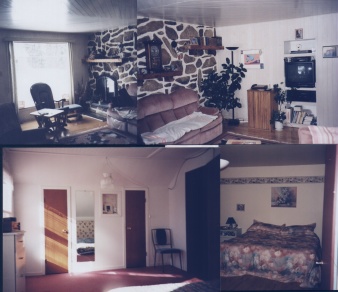 Fosse septique 1999
Puits de surface près de la maison
Planchers en bois franc partout sauf 3½ plancher flottant
Foyer mur à mur en pierre des champs dans résidence principale
Taxes au total $1200 annuel


Prix 105,000.00 et c'est une aubaine car si ce n'est pas vendu pour juin 2004 notre groupe va l'acheter à ce prix.

cliquez sur les images pour les agrandir
Contactez Domenico au 450 229-7933 ou 450 229-5140 Fax 450 229-7465 Courriel domenico@arrl.qc.ca
Terrains Commercial, Résidentiel et Terre à bois avec ruisseau et source d'eau
dans les Laurentides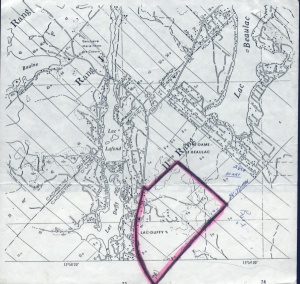 250 arpents à St-Calixte
1 mille par 1 mille approx sur la route 335
10 millions de pieds carrés.
3 Minutes d'accès par la route 125.
30 Minutes de Montréal.
15 Minutes de St-Donat.
Longeant la route 335 environ 1 mille avec chemins interne Ruisseau et source d,eau de qualité supérieure.
Proximité de 3 lacs d'envergure.
Parfois en colline parfois en vallée.
Sur les limites d'un projet de terrain de Golf
Beaucoup de bois mou et feuillu datant de 50 ans
tel que Érablière à sucre, Érable rouge Hêtre, Bouleau à papier, Bouleau jaune (Merisier), Peuplier, Cerisier tardif,Thuya occidental (Cèdre) Sapin baumier, Épinette blanche (Dernière coupe de bois 1980)
Plan d'aménagement forestier disponible.
Certains lots ont des affectations commerciales, d'autres pour la villégiature et enfin certains lots sont considérés résidentiels.
Valeur 1,000.000.00$
PRIX DEMANDÉ EST AVANTAGEUX
?00,000.00 $ CANADIEN
Commercial, Residential Lots and Wooded land with stream and stream water source
in the Laurentians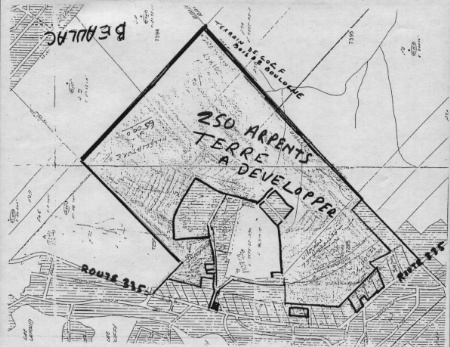 200 Acres and more in St-Calixte
1 mile by 1 mile approx. on route 335
10 million square feet.
3 minutes acces from the autoroute 125.
30 minutes from Montreal.
15 minutes from St-Donat.
1 mile frontage on route 335 with internal roads
Running water yearly brook and Spring water source.
Very close to 3 major lakes.
Very mountanous and at times a valley.
Delineated by a Golf project.
Heavy quantity of soft wood and hard wood of 50 years of age. Sugar maple, Red maple, Paper birch, Yellow birch Thuya (Cedar) Fir and White spruce (Last major cut 1n 1980)
Forest reseading plan available.
Some lots have an commercial zoning, others residential and some have villegiature designations.

Valued at $1,000,000.00
PRICE ASKED IS ADVANTAGEOUS
$?00,000.00 CANADIAN
E-Mail maria@arrl.qc.ca
Tel 450 229-5140
Nous fabriquons des Pots de Sauce de Tomates variées, Pâtes de Piments, Pots de Piments frits frais, Pots d'Aubergines fraîches dans l'Huile d'Olive, Pâtes Fraîches, Pesto à la Genovese et autres aliments recettes frais à l'italienne.
Venez savourer ces délices en nous communiquant au courriel de danielle@arrl.qc.ca ou par téléphone au
1(450) 229-7933
We manufacture Jars of Various Tomato Sauces, Red Peper Pesto, Jars of Fresh Eggplant in Olive Oil, Fresh Various Pasta, Genovese Pesto and other fresh italian recepies.

Come and enjoy theese delicacies by writing to us by E-Mail at danielle@arrl.qc.ca or by calling at
1 (450) 229-7933