Peggy's Cove
The Video...
Its People, Its Beauty, Its History...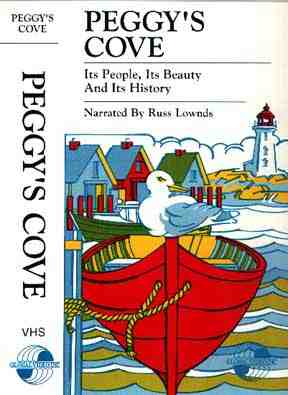 A new video (also available as InterActive DVD!) had been produced featuring one of the most beautiful natural settings in the world. But it isn't just th e natural beauty that makes this portrait of Peggy's Cove special; It's the poetry of the people: the fisherman- first, last and always... the point-of- view of a postal clerk in the only post office lighthouse in North America... the proud widow of a great marine artist... the pastor of the local church... the memories of a village elder.
The video is named after the community and subtitled, "Its People, Its Beauty, And Its History". Peggy's Cove is located 53 km (33mi) southeast of Halifax along the southern shore of Nova Scotia, Canada. It is an independently produced documentary, using 100% Nova Scotia talent involvement in every element of the production right down to the design of the video sleeve.
Peggy's Cove is the brainchild of John Versteege of Dartmouth's Global Video Inc. Before starting to work, he talked with many people who told him that they ordinarily found "destination" videos to be disappointing. Eventually, he put his finger on the missing ingredient, "Most tourist videos don't have any people. Wherever you go, you don't remember the place so much as the people - a Peggy's Cove video withouth the people would be sterile."
Scriptwriter Paul Moore admits that at first, he underestimated what John Versteege had in mind, "I was thinking basically of pretty pictures-and-platitudes... I remember telling John I thought we could wrap it up in two or three days' shooting. " That was a year ago.!
Aside from the fishermen themselves, the "star" of the video would be the late William de Garthe,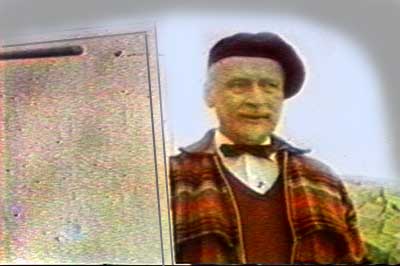 the marine artist whose Monument to the Fishermen of Nova Scotia, carved out of the granite in the backyard of his home at Peggy's Cove, has become a provincial park.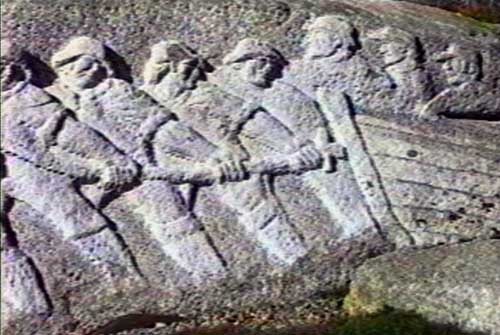 Paintings and sculpture from de Garthe's 50-year career at Peggy's Cove help to illustrate the community's history. The video also contains vintage film footage of de Garthe himself, including a breathtaking shot of the artist at work as a wave crashes on the rocks immediately in front of him.
The wind at Peggy's Cove is also highlighted.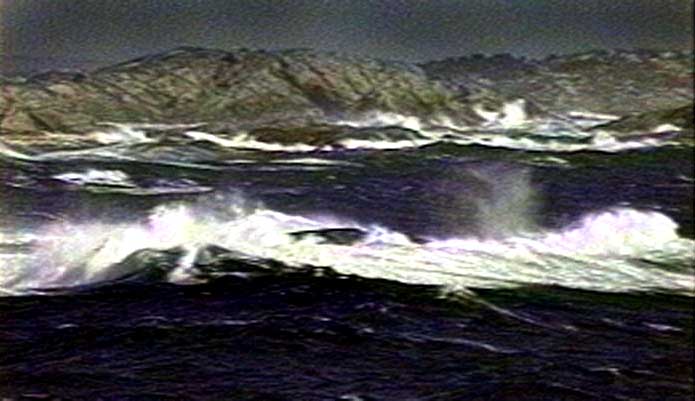 John Versteege reports that while taping one day on the approaches to Peggy's Cove (appropriately called "The Barrens"), the gusts were such that the camera couldn't be held steady even with two people trying to brace it. One of the most spectacular and cautionary scenes illustrates the power of the wind - especially when combined with that of the sea. This scene shows a fishing boat caught in an ominous-looking ocean of whitecaps on the first day of lobster season. In a lighter vein, an underwater camera was placed inside a lobster trap to get the crustacean perspective on things.
At first, the intention was to have a program under 12 minutes ... then it was under 20 minutes, then 25, and now the finished product is 30 minutes. Scriptwriter Paul Moore: "We simply kept running into material and people that were too good to leave out. We came across Mr. Donald Crooks almost by accident. He was one of the men who helped William de Garthe with the hard physical labour of the Fishermen's Monument, and we wanted to have a short interview with him in connection with that. But when we started to roll the tape, we found out that Mr. Crooks is a natural storyteller, with a real sense of drama, and a very dry Maritime humour."
John Versteege of Global Video has won several awards for documentary work that has taken him around the world-from Europe...to China...from the streets of Calcutta, to the plains of Africa.
This time he found a microcosm of the world in Peggy's Cove, population 61....

Peggy's Cove - Its People, Its Beauty, And Its History,
is narrated by marine historian and veteran broadcaster Russ Lownds .
---
-Thunder In The Sky -
The 1917 Halifax Explosion Video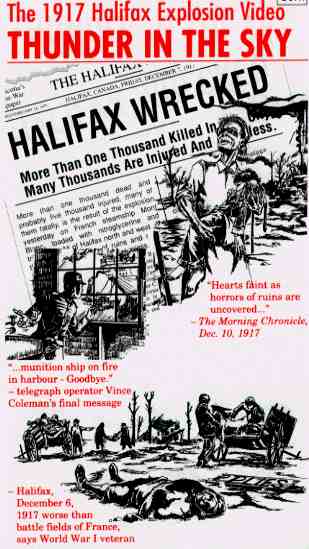 December 6th, 1917. Shortly after 9:00 a.m. Two ships, the French munitions ship Mont Blanc and the Belgian relief vessel Imo, collide in Halifax Harbour. A fierce explosion quickly follows. Thousands die instantly, thousands more are injured and one-fifth of the city is levelled. Until now, popular belief had rated this the worst explosion before the atomic bomb.
Set against the backdrop of wartime Halifax, a military town with a population of 50,000, Thunder in the Sky chronicles the story of the Halifax Explosion from personal eyewitness accounts at the time of the disaster to a modern-day analysis by scientific and legal experts who try to assess just what happened on that terrible day.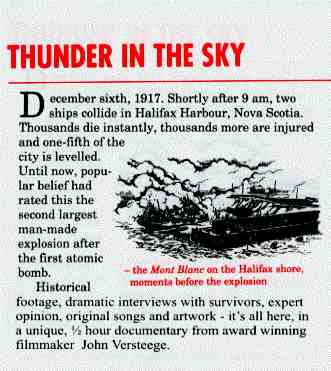 The whole project began with a germ of an idea almost two full years ago. Twenty-four months of gathering research materials, scanning through microfilms, recording, tape logging and hundreds of phone calls followed. "I can't possibly cut this!" frustrated producer John Versteege commented to assistant Andrea MacDonald on more than one occasion.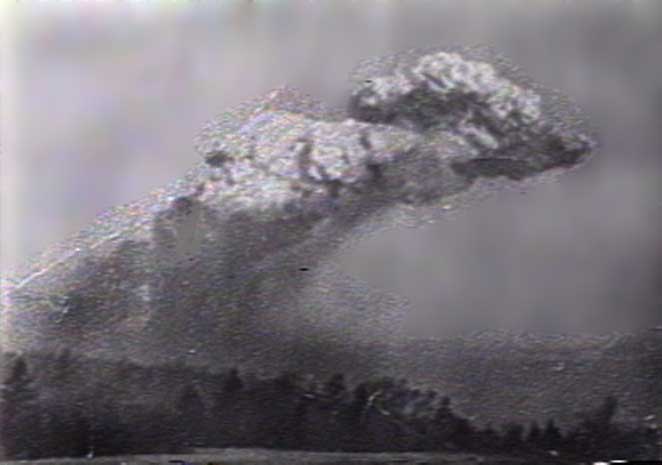 With rare film footage, exclusive photographs and one-of-a-kind interviews to name just a few elements that ended up in the finished video, it wasn't an easy decision. But that's what editing is all about, eliminating even the best of material if it gets in the way of the story.
After hearing John being interviewed on radio back when the project was first underway, a Truro musician named Eric Young composed a song about the explosion. Weeks later, he strode into the Global offices in Dartmouth with his guitar slung over his shoulder to perform his recent composition. Before he left, John had hired him to write the remaining two songs that now appear in the documentary.
Survivor Bill Carter was a secret until graphic designer Gary Carter told Andrea and John about his 84-year-old grandfather who was still digging glass from the explosion out of his forehead and saving it in a little jar "just for the sport of it".
If it hadn't been for a newspaper ad seeking survivors, the moving testimony of Nellie Flynn would have been lost forever. Mrs. Flynn, who described the scene outside her home on the day of the explosion as "some kind of a nightmare", called Global Video with an eyewitness account of what happened to her, her family and the Mic Mac Indian community near her home. After John heard her story, he managed to persuade her to be filmed. "Be a part of history," the ad implored, and she is.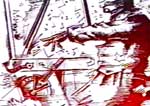 Although hundreds of photos, newsreel footage and newspaper clippings on the explosion were used in the production, the personal drama described by the survivors could only be imagined...that is, until John commissioned artist Barry Bowman to create over 30 detailed drawings to help illustrate their ordeal.
A number of survivors still living in the Halifax area had never been approached to tell their story. Six of them living in the same retirement home got together for the camera to talk about their experiences on that December morning.
Nita Nolen
, another survivor, escaped serious injuries and possibly death only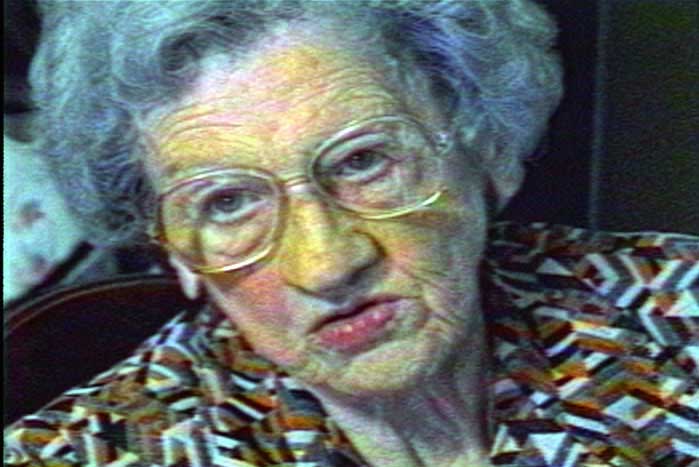 because she was too sick to go to Richmond Street school where many of her
classmates were killed.
Her father,
Vincent Coleman
, was a telegraph operator in the north end of the
city where most of the devastation occcurred. He issued a warning to incoming
trains of the impending blast before being killed.
Local newspapers dubbed him a hero.
Having travelled all over the world and produced documentaries on many varied subjects, John found yet another challenge in producing this historical video. Interview subjects were often surprised to see him arrive solo. Expecting a large film crew and loads of equipment, they were pleasantly surprised to find just John and his camera and spoke as if talking to their best friend.
Even a tripod wasn't always necessary. Just ask Donald Kerr, a marine lawyer who presented a fascinating wrap-up of the legal fallout following the explosion as John set his hand-held camera across his desk.....
John Versteege knows no limits to "getting the story", be it above or below water. By scaling 300 ft. to the top of a suspension bridge and probing the depths of the waters below, John managed to get footage of the harbour narrows, a wrecked oil tanker and ammunition shells from the First World War.
Thunder in the Sky is an international story that travels from local sites in Nova Scotia to the Falkland Islands nearly 8,000 miles away, where the 440-ft. Imo now rests under 60 feet of water.