John Versteege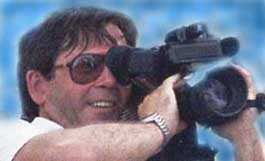 John comes to the video industry from a very eclectic background.
Born in North Africa in 1944, from a Dutch father and French mother, he grew up during the final years of the French colonial era. At the age of 15, he moved to Paris, France.
After graduating from the French Institute of Photography in 1962, he was drafted into the Movie Division of the French Army based in Baden Baden, Germany. Twenty months later, John found himself on the streets of Paris covering general news, theater life and the fashion world.
After only seven months, John had had his fill of photographing the so-called Paris "elite" and volunteered to do social work in the slums of Calcutta through a Paris- based relief organization. For a year and a half he managed a food distribution centre in conjunction with local schools, providing around 8000 meals a day to needy children. At times, cooperation with Mother Theresa and her workers became a privileged experience. In order to enable the relief program to continue, John produced hundred of photos and 16mm films depicting the progress of the project.
In 1967, after meeting Lota Hitchmanova of the Unitarian Service in the famine-ravaged state of Bihar, he immigrated to Canada and worked for two years as a news photographer with the Ottawa Journal. He then started his own photographic news agency in Ottawa in 1969, producing general news stories, photo features and magazine articles with the help of several other news photographers.
Five years later, while on a two-week tour of the Maritime Provinces, John fell in love with Nova Scotia, the sea, and the men who plough the sea. So began a 10-year career as an inshore fisherman in the village of Jeddore, where he still resides.
In 1982 he was selected by CUSO to open the first village fishery program on the tiny island of EPI, in Vanuatu, South Pacific. Following this "adventure" , he travelled around the world and rediscovered photography.
Three years later, in 1985, John was selected as one of 12 expert European Community photographers to conduct an advertising seminar in Communist China. This well documented experience convinced him that the world was about to see the awakening of a giant. On a personal level, it was the return to full time creativity.
---
When he returned to Nova Scotia, John opened a video company called
Impact Videographic Services Ltd.,
specializing in film and slide transfers to video, foreign cassette conversions and much, much more...
---
Two years later he created a video production company called Global Video Inc.
Although he produced mainly commercial videos through Global, John's first love was the documentary.
---
In 1987, he received an Award of Excellence at the Atlantic Film Festival
for the 105-minute "The Gambia Project ", his first documentary.
---
In 1988, John produced and directed....Cerebral Palsy, A Misunderstood Condition! ,
a 30-minute documentary , which was shown across Canada
by the Canadian Cerebral Palsy Association.
---
In 1989 John found himself in Calcutta once more, not as a volunteer this time, but as a filmmaker.
The result, Beyond Charity, documented the activities of a street clinic in the heart of Calcutta.
In 1990 it received a CANPRO Award
for second-best public affairs documentary in Canada!
and was later broadcast throughout Atlantic Canada on ATV /ASN.
---
In 1992, John produced a 30 minute documentary on Peggy`s Cove, Nova Scotia.
Population 60...except for the summer months when over 200.000 tourists converge to it from the World over
---
In 1993, John focused on the 75th anniversary of the Halifax Explosion.
The result was... "THUNDER IN THE SKY" a 97-minute documentary which covers many aspects of the tragedy. It incorporates striking interviews, three original songs, unique photographs and archival film taken the day after the disaster, as well as the use of dramatic illustrations created specifically for the production.
---
In 1994, John teamed up with Janet Beaton, a survivor of ANOREXIA BULEMIA,
and co-produced a 40-minute Video called "Anorexia Bulemia...It`s OK to talk about it!"
---
December 1996, John released ...."THE AUSCHWITZ CONNECTION",
a 57-minute documentary which examines the plight of a local Holocaust survivor
as well as the efforts of some local youth at coming to grips with their inheritance...
This work has received great reviews from teachers, professors, the Media (CBC Television,)
and many young people alike...
---
In 1999, John released a 30 minute documentary on Saint-Pierre & Miquelon.
Those islands are located on the east coast of Canada, directly below Newfoundland, and...
are French Territory right here, in North America!


More on this and much more soon..