FVWM Logo Competition Entry
by Takashi Toyooka
---
Here is my entry for the FVWM Logo Competition.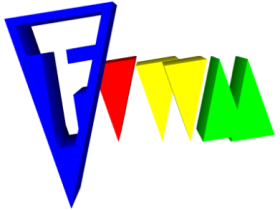 Notes
The "building block" logo reflects my view of fvwm as a massively configurable window manager.
I didn't put too much thought into the colours, they could certainly be changed.
Below are a bunch of variations on the theme. Except for the last row, the two columns contain the same thing; the only difference is the background colour.
3-D Versions

Full Logo:

Large Icon:
Small Icon:
Full Logo:

Large Icon:
Small Icon:

2-D Versions

Full Logo:

Large Icon:
Small Icons:
Full Logo:

Large Icon:
Small Icons:

Single-colour / Black and White

Full Logo: Tiny Icons:
Full Logo: Tiny Icons:
Here are the base images I used to generate the above (these images are easier to manipulate since they're not antialiased):
---
© 2003-2004 by Takashi Toyooka